Versa Shore helps organizations plan, prioritize, design, implement, and deploy Business Intelligence solutions at both the enterprise and departmental level. Our business intelligence consulting approach is based on best practices architecture and design techniques espoused by Ralph Kimball and Bill Inmon.
When implementing BI tools, we focus on two key goals: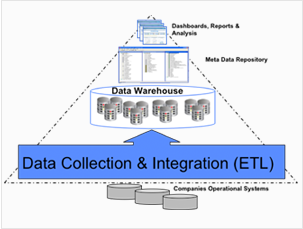 Identifying and improving the critical performance measurement and
decision processes in your organization
Pragmatically adopting a phased approach to investment and
functional BI delivery
Using our proprietary methodology, Versa Shore's experienced,
industry-leading consultants deliver BI solutions that are customized to your unique business requirements. We provide thorough requirements collection, planning, and analysis to determine size, scope, value, return, and readiness.
Data analysis, acquisition, and transformation bring together disparate fragmented data into a single enterprise
view – addressing the need to get data into the data warehouse. During this phase we identify, acquire, organize, and
consolidate data.
During data warehouse creation, we design and create the data warehouse – ensuring a design that supports
effectiveness in loading, retrieving, and archiving data.
Data presentation provides the reporting and interfaces for the data to be consumed – in the form of BI reporting, portals, dashboards, and KPIs.
At Versa Shore, our aim is to ensure the success of our clients' projects. We do this through training and mentoring your team – for the duration of a project or when you need help in a particular area. We work with you to help with the
implementation of your BI tools by providing experienced developers, working with you to define the architecture and design of your project, and being available to provide assistance as needed.
If your project is already live and you need help with a technical issue, or perhaps you'd like us to provide a review or health check of your system or conduct more end user training, we can work with you on-site to quickly understand and resolve any issues you are facing.
Our typical client engagements include the following:
Business Intelligence/Data Warehouse Implementation
Strategic Roadmap & Blueprint Creation
BI Tool Benchmarking & Selection Assistance
RFP Creation & Project/Program Management
Requirements Gathering & Assessment Workshops
Complex Proof of Concept & Design Services
Configuration, Validation & Testing Services
Deployment & Production Readiness Review
Expert Review of an existing Project
Custom End User Training
Performance Tuning, Production Review & Best Practices Audits
Versa Shore's Turnkey BI Methodology Assessment,
Management, and Deployment Services include:
Requirements Gathering
Data Warehouse & OLAP Design
Solution Design, Build, Test and Deployment

New generation BI tools such as Birst and Qlikview
OBIEE & BI Apps Rapid Deployment packaged solutions
OBIEE 10g to 11g Upgrades
Legacy migration services for Brio & System 9BI+
BI Integration with Oracle EBS, PeopleSoft, JD Edwards and Salesforce.com

Infrastructure Sizing
Performance Tuning
Post Production Support
BI Center of Excellence